Sustainable action as a central guiding principle for the future runs from the European sustainability strategy through the national concretization into the different areas of our activities. The construction industry has a strong influence on this and can make a major contribution to sustainable development due to the required material and monetary resources in conjunction with the resulting environmental impacts. So far, the term 'sustainable building' has mostly been related ti building construction. In the fields of infrastructures and civil engineering, however, there is no overarching assessment and certification system to determine the sustainability of measures and associated structures.
Against this background, a workshop was organized by the KIT Coordination Office of the Water Research Network Baden-Württemberg with scientific support from Prof. Elke Petersson and Dr. Sonja Cypra (Karlsruhe University of Applied Sciences). The aim was to identify research questions and cooperation opportunities for the water sector. 22 representatives from universities and from practice (engineering offices, public authorities, water supply) attended the workshop.
After an introduction to the topic by Elke Petersson, Susanne Kytzia (Hochschule für Technik, Rapperswil, Switzerland) gave a keynote speech on project-related experiences with the SIA 112/2 guideline, which was created in 2016 for sustainable building in the field in civil engineering and infrastructure in Switzerland. Following this, relevant questions were collected in the form of an open space, which were deepened in group workshops. It turned out that there are similar methodological challenges in the various disciplines (hydraulic engineering, urban water management). Finally, ideas for possible initiatives with potential for further development in the future were collected, e. g. the preparation of sustainability assessments and criteria catalogues for practical use. On the other hand, research could benefit from more project examples from practice.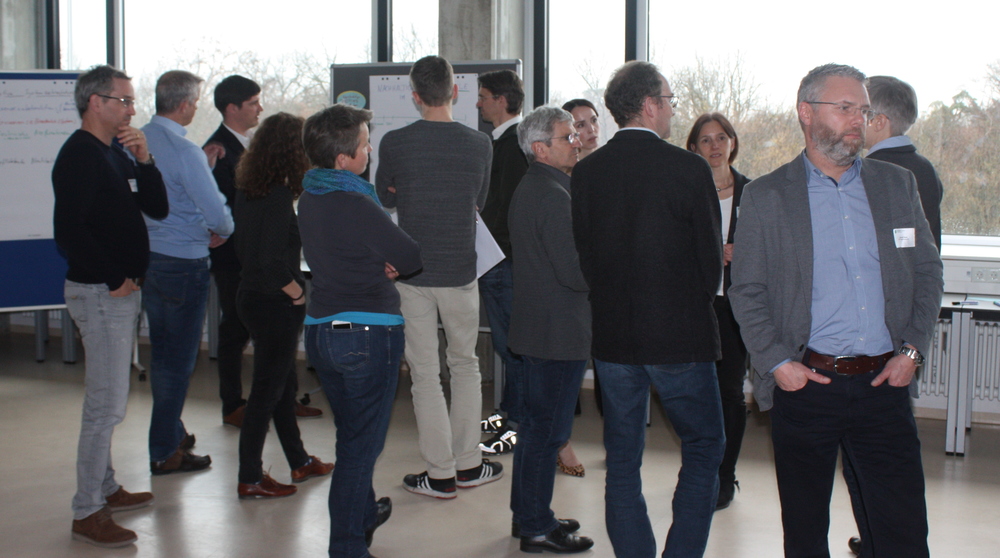 Further information in the PROGRAMME
The results of the workshop have been published in 'Water':
Cypra et al. (2020): Sustainability Assessment in Water Infrastructure Projects – Existing Schemes and Challenges in Application
Image Credits: dam of Schwarzenbachtalsperre, lockage Neckarsteinach, clarifier of the sewage treatment plant Mannheim, combined sewer overflow basin of the sewage treatment plant Neureut, redeveloplemt of a sewerage system (from left to right).