Lecture programme
In the first part, six women having diverse backgrounds and working in different areas presented their career paths:
Dr. Ulrike Braun (chemist at the Bundesanstalt für Materialforschung und –prüfung, Berlin): Die macht doch nur, was sie für richtig hält!
Professor Miriam Langer (biologist at the FHNW University of Applied Sciences and Arts Northwestern Switzerland): Jeder Schritt war wichtig
Dr. Ulrike Scherer (geoscientist in science management at KIT): Die Wissenschaft voranbringen
Professors Carolin Huhn (chemist at the University of Tübingen) und Rita Triebskorn (biologist at the University of Tübingen): Unsere Wege an die Universität
Dr. Carla Lorenz (biologist in a consulting company): Von der Uni in die Wirtschaft
The lecturers described their successful strategies on the way to their current professions as well as the requirements imposed on them.
Group work change of perspective job application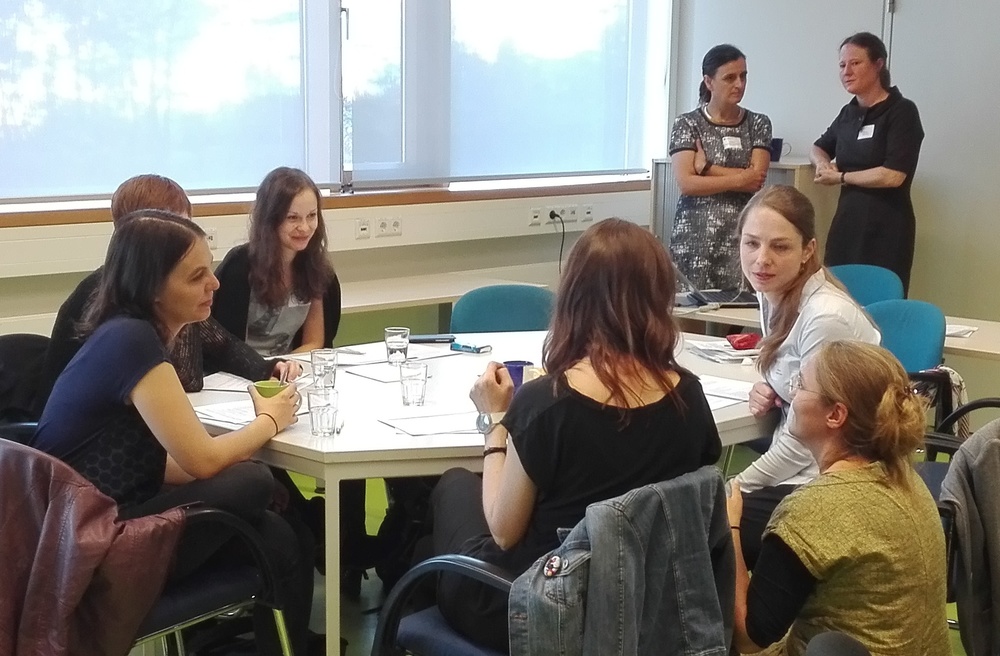 In the second part, small groups dealt with the application situation. After an introduction into the typical structure of a job interview, small groups compiled questionnaires for job interviews and used them in role plays. In doing so, the lecturers slipped into the role of applicants, whereas the participants assumed the recruiter's role.
The workshop was attended by 18 doctoral and postdoctoral researchers from the universities of Tübingen, Freiburg, Hohenheim, Stuttgart, Konstanz and KIT. In addition to the lecture programme and the application training, the workshop provided sufficient time for networking.
The workshop was organized by Prof. Carolin Huhn and Prof. Rita Triebskorn (Effect-based environmental analysis and Animal Physiological Ecology, University of Tübingen).
Origin of photos: Above: doctoral researchers in a laboratory of the Engler-Bunte-Institut, Water Chemistry and Water Technology at KIT (© U. Scherer); at the bottom right: group work at the workshop in Tübingen at 12 October 2018 (© U. Scherer).